Last Week Of La Francophonie, Exciting Event On April 23 + Rencontre Des Auteurs Francophones
Posted by Jennifer Fulton on

The month has flown by, but hopefully you've had a chance to participate in some of the DC Francophonie Festival
 events.
Pas encore? Pas de soucis! 
There are several more planned before the end of the month, including tomorrow's virtual Roundtable on contemporary Caribbean literature and Nuit de la Poésie on March 31!

Also: 

Local Student Showcase: 
Celebrating La Francophonie! 


We especially hope you will walk down Howard Ave in Kensington and behold the amazing student projects on view in our window (partially pictured above).

Students from both the Sligo Creek Elementary School French Immersion students and Lycée Rochambeau  came up with some fantastic expressions of the French Language, France and La Francophonie.  It's really impressive -- venez voir! 
 
Highlighting Francophone countries and authors:
We've also been adding to our special Francophone Country Collections, to help you discover new perspectives and cultures.  This list is by no means exhaustive, and we continue to add to our collection all the time. If you have a favorite Francophone author we are missing please let us know!

Normally we blend all our French literature together regardless of author's nationality. For the Francophonie festival we have pulled from our stacks to create a special selection organized by country. Come discover a new country, a new author, a new perspective!   And/or join us for Parlons Bouquins (see below) to discover new ones and discuss! 
Here are just a few of the new authors and books we can't wait to read:
Table ronde: la littérature contemporaine de la Caraïbe

 
Upcoming Events
Prochains Évènements

Special French Storytime with Communikids! THIS EVENT IS FULL
Join Bonjour Books and CommuniKids as we celebrate Francophonie Cultural Festival which focuses on sharing and appreciating the diversity and richness of the French language and Francophone communities around the world. It's celebrated every year in March to recognize the are over 300 million French speakers living across five continents.
Recommended for children up to 8 years

of age. Storytime, music and activities for children.
DATE: Sunday March 26, 2023
11:00-11:45
Raindate: Sunday April 2. 2023

THIS EVENT IS FULL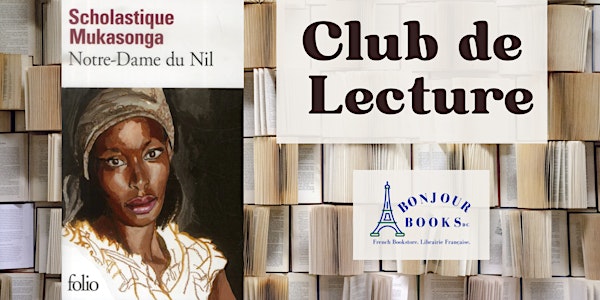 The Kensington Day of the Book Festival is a family friendly street festival spanning three blocks of Howard Avenue in the heart of historic Kensington. Come meet authors, poets, literary and community organizations. Live music on a few stages, special guest speakers, poetry readings, cookbook demos, children's program, and much more. Not your average book festival! Now in its 16th year, this festival offers something for everyone!
This year Bonjour Books DC, Kensington's French Bookstore, is proud to sponsor the LOCAL FRENCH AUTHOR PAVILION as part of the festival!
We welcome the following Washington, DC Area authors who have published books in the French language or on French & Francophone themed topics:
*We also welcome Florida-based Tangi Colombel from our partner, Rencontre des Auteurs Francophones on his East Coast book tour!

Don't miss it! À ne pas manquer!
Our Partners
Nos Partenaires

From their gorgeous library, to amazing cultural programs and events, to unparalleled French language instruction, we are proud to partner with the AFDC, the "French Heartbeat of the nation's capital!"
NEW! NOUVEAU!







We are delighted to partner in 2023 with Rencontre des Auteurs Francophones, a unique network founded and operated by the talented and passionate Sandrine Mehrez Kukurudz.  With a mission to promote French-language authors in the United States and around the world, her fantastic platform includes virtual author presentations, a blog, literary salons and more. 

We look forward to working with Rencontre des Auteurs Francophones to introducing MORE French-language authors to readers everywhere!
Copyright © *|CURRENT_YEAR|* *|LIST:COMPANY|*, All rights reserved.
*|IFNOT:ARCHIVE_PAGE|* *|LIST:DESCRIPTION|*

Our mailing address is:
*|HTML:LIST_ADDRESS_HTML|* *|END:IF|*

Want to change how you receive these emails?
You can update your preferences or unsubscribe from this list.

Not subscribed yet? Sign up here!

*|IF:REWARDS|* *|HTML:REWARDS|* *|END:IF|*
---
Share this post
---
---