Around Town! Washington, DC French Cultural Events - Books and Authors
AROUND TOWN
Le Nord, Mon Amérique à moi : conversation avec Olga Russo
Thursday 21st October 2021 — 6:00pm to 7:00pm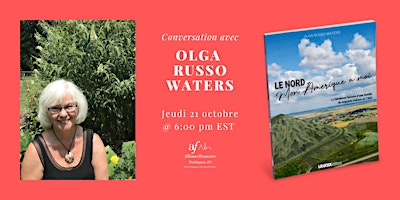 Découvrez l'histoire d'Olga et de sa famille qui quittèrent leur Italie natale pour s'installer dans le Nord de la France. Le père d'Olga exerça le dur métier de mineur de fond, puis, devant les risques du métier, ils s'installèrent aux Etats-Unis.
Olga partagera ses souvenirs d'enfance dans le Nord auquel elle reste viscéralement attachée. Les participants auront l'occasion de poser leurs questions à l'auteure pendant la session Q&A.
Vous pouvez commander le livre chez Bonjours Books DC ici.
PAST EVENTS
Kylie The Crocodile in Paris: Story Time with Oliver & Lina Nordin Gee
Saturday 25th September 2021 — 11:00am to 12:00pm
3–9 year-olds and their grown-ups are invited to join us for a reading with author Oliver Gee and illustrator Lina Nordin Gee as they read their new picture book Kylie the Crocodile in Paris. Following the reading, Lina will show participants how to draw a crocodile and then the pair will answer questions about what inspired this "absolutely true story."
This live, interactive virtual event will be hosted on Zoom. We will keep microphones muted during the reading part and art demonstration, after which participants will be encouraged to turn on their microphones and ask questions during the Q&A part of the event. Children will also be able to communicate with Oliver and Lina via chat throughout the event.
Purchase your own copy of Kylie the Crocodile in Paris here.
---